Power to the models
---
2020


A co-production with Stedelijk Museum Breda



Commissioned by the Stedelijk Museum Breda and BredaPhoto, I created the exhibition 'Power to the Models'. With the theme of BredaPhoto 'the best of times, the worst of times' in the back of my mind, I realized that if you really want to change something then you have to approach it in a radically different way.

We consider it normal that a photographer, with his or her background and norms and values, determines how a model is photographed. The power in the relationship is clear: the photographer is leading, the model conforms. There is a real danger that the photo is stigmatizing or re-affirms a stereotype. But what if you turn the tables around? What if you give the power in the relationship to the role the model? I looked for eleven models that are often photographed in a one-sided way and offered them the opportunity to create an image of themselves in their own way. They make the plan, manage the budget, determine the location and who the photographer is.

Power to the Models is the result : eleven installations of eleven models that include

Chiara Bardelli Tonino

, a photo editor of the Italian Vogue,

Mohan Verstegen

, a soldier who is also a queer activist,

Sylvana Simons

, a politician and activist, and

DJ Tiësto

, a famous DJ. Other models are

Baqteria

,

Hatti Rees

,

Bruin Parry

,

Lotte van Eijk

,

Ismail Ilgun

,

Jyoti Weststrate

,

Dick de Koning

on display in the Stedelijk Museum Breda.


Installation pics made by John Tromp


---
Ismail Ilgun – The Pester vlogger

"Scum of the Earth" is what Prime Minister Mark Rutte called Ismail Ilgun, when he was still making his controversial 'Hoodvlogs' in one of the largest disadvantaged neighborhoods in the Netherlands. And not only Rutte criticized the controversial vlogs full of street slang, young rappers and issues with the police and local residents; almost all major newspapers were outraged by this (then) 19-year-old boy of Turkish descent. In contrast to the media, Kees de Koning of hip-hop label Topnotch turned out to be a big fan and saw in his vlogs 'the voice of a generation'. In the meantime, the former 'pester vlogger' has completely changed his life and he has started to actively live according to the laws of Islam. How does Ismail see himself now?
Mohan Verstegen – Queer warrior in Defense
The image of employees of the Ministry of Defense seems to be carved in stone: a masculine man with a white skin color, and a little bit nationalist. In addition, military staff are mainly talked about by other but the men and women who work for our armed forces hardly speak for themselves. Mohan Verstegen does however speak out. As an outspoken member of the queer movement and because of his Indian origin, he does not meet any of the stereotypes of the military. Mohan not only fights for our country, but also for more inclusive armed forces. In this exhibition he shows how he hopes the military of the future will look.
Lotte van Eijk
Lotte is fat and she is damn proud of it. That used to be different, for years she was ashamed of her body. Until she decided that she no longer wanted to meet other people's expectations. She decided to launch herself as a photo model. There were no examples of girls like her who show that you can be both fat and damn sexy. She took matters into her own hands and started an Instagram account. First, she photographed herself and then asked other photographers to portray her exactly as she wants. Lotte's strategy has worked: through her account she grew into a true inspirer and influencer. Even big brands like Dr Marten's decided that Lotte should be the face of their campaign.
Dick de Koning - King of the Farmers

Dick de Koning is a cattle farmer who, together with others in the agricultural sector, wants to change the predominant image of the farmer. Many people, mainly from the urbanized western part of the Netherlands, see farmers as being animal-unfriendly and not very clean, although they have no idea of what things are really like in the sector. According to Dick, the agricultural sector in the Netherlands is the cleanest in Europe, and farmers are unjustly made the scapegoats for a variety of environmental problems. He is therefore now in consultation with others on how they can change this prevailing image.


His own farm plays a central in that new, alternative image. Together with photographer Gerard Nel, he wants to openly show the realities on his farm. For the Power to the Models project, he wants to make a presentation with fences and cut outs of farm animals, so that visitors really get the feeling of being in an agricultural environment. In addition, he is producing a video that gives more context about farm life and why people have formed the wrong image of it.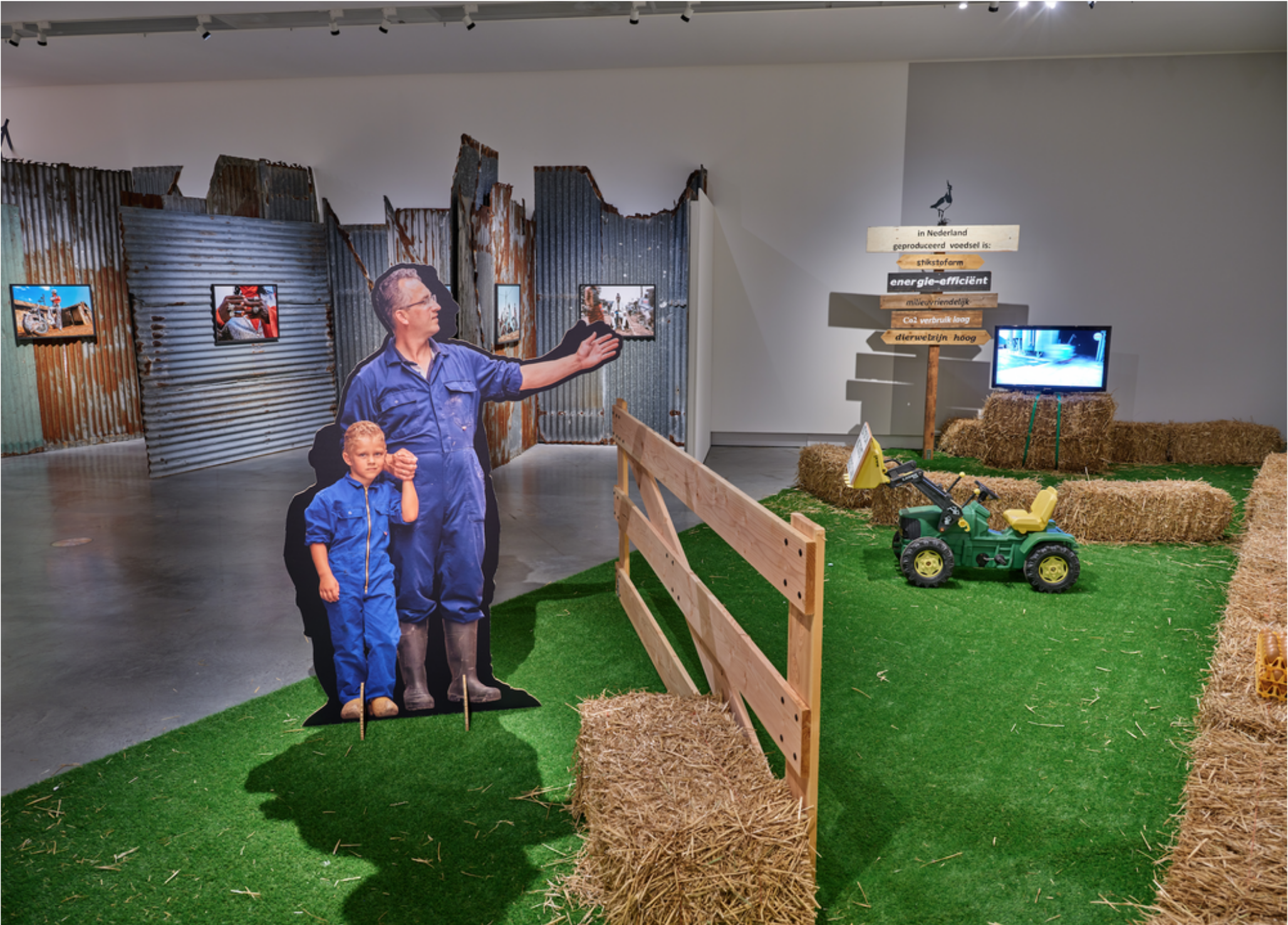 Baqteria – The Ghost Rider
When we think of the slums of an African country, we often think of poverty and people sitting blankly in front of squat houses made of corrugated iron. This is an image that has often been portrayed by Western photographers who – with good intentions – repeat the same stereotypes. Few will think of futuristic motorcyclists who customize their own motorcycles and at the same time are also award-winning supermodels. The Ghost Rider comes from Kibera, the largest slum in Nairobi and shows us how in the slums, they are well able to create their own image.
Hatti Rees
Gender-hybrid make-up artist Hatti Rees has for years had the most alienating portraits of himself made. She appears as a reincarnated forest ghost, then later as an alien-like menstruating Marilyn Manson or an alien that looks like a doll transported from another dimension. Hatti has been doing for years what this exhibition wants to show. As a maker, she claims ownership of her own image. It is not the changing procession of photographers with whom she works, but she herself decides what happens in the photo.
Chiara Bardelli Nonino
Chiara is photo editor of Vogue Italia and L'Uomo Vogue, arguably the most iconic magazines in the world in the field of fashion. As a photo editor, she is normally in charge of determining how others are portrayed, thereby having the power to make or break stereotypes. But what choice would Chiara make when it comes to portraying herself in a photo?
Bruin Parry
Bruin Parry is an extremely talented artist who makes geometric black and white drawings. He is also an avid Instagram influencer with more than seven accounts: under his alter ego Bruin Jackson, he is also an avid dancer both in clips and free styling on the Johnny Jordaan square. Bruins also works as a model and loves photography. And oh yes, he also has Down syndrome. People with a mental disability are almost always portrayed by others, which often results in moving but also 'sweet' photos. Bruin shows that this image can be very different if the person is allowed to direct the photo himself.

Tiësto
Not only minorities on the margins of society often depend on the media for their imaging. The greats, the rich and the famous, are also mainly portrayed by others. Tiësto is perhaps the most famous and most successful DJ on the planet, but grew up as a simple boy in Breda, the city where this exhibition takes place. He became an example for many young inhabitants of this city and he shows that dreams can become reality. Will Tiësto confirm the image created of him in the media, or will he show a completely different side of himself?

Jyoti Weststrate


Jyoti was adopted from India and found out a few years ago that very strange things happened around her adoption procedure and that her story isn't alone. Through a spectacular search she came across a very dubious father who has contacts with Hollywood as well as in India and who played a major role in her adoption.
With her story she wants to raise abuses in the adoption world.
She will be photographed by Dagmar van Weeghel and by the young, also adopted, photographer Jonnah Bron.



Sylvana Simons

A documentary was made about Sylvana Simons entitled 'Demon of Diva'. Indeed, the political activist, founder of the political party Bij1 and television presenter is often placed in two categories. Either she is dismissed as being inhuman in destroying the Netherlands by ruining an old traditional celebration for children. Or she is honored and portrayed as a saint who – at the risk of her own life – fights against injustice and racism. But how does Sylvana Simons actually want herself to be seen?




A sticker book (find here) was made as a publication next to the exhibiton, as well as a podcast (find here).